After reading into aquatic plant photosynthesis some I decided to try something with my lighting. I removed my ZooMed ultra sun bulb and replaced it with a AquaticLife 420/460 nm bulb I had. This bulb should cover the peaks at 430 nm wavelength for chlorophyll a and 453 nm wavelength for chlorophyll b better than the ZooMed bulb. The remaining ZooMed bulb should cover the 662 nm wavelength for A and 642 nm wavelength for B, and it will also cover anything needed in between which is not nearly as much. With this I threw any aesthetics out the window since my tank looks purple now. I don't know how well this will work, but I want to see what the effect of the light change will be on the growth, color, and shape of the leaves.
The start
- 8 hour photoperiod
- plants arranged based on their lighting needs
- no changes in CO2, ferts, or temperature during the week
- 50% water change was done today to run the experiment on my EI dosing schedule
- The light is placed in the center of the tank 3" above the surface of the water, and 17" away from the substrate.
Some pictures from today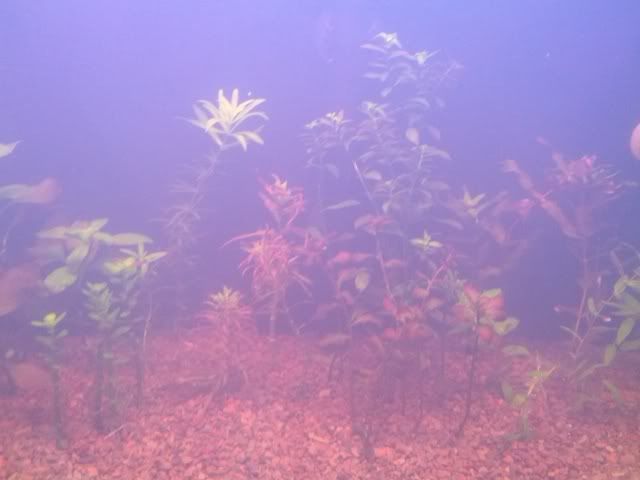 Bulb spectrum pictures
The top box is the ultra sun that I removed, and the bottom box is the remaining flora sun bulb. Along the X-axis the numbers read as 250, 350, 450, 550, 650, and 750. From zero, the Y-axis increases by tenths.
Here's the link to the image for the spectral graph of the AquaticLife 420/460 nm bulb.
http://www.aquaticlife.com/sites/defaul ... 1311207596
I will run this for a week and post new pictures next friday. If I notice any major problems with the plants or algae I will end this experiment and swap the bulbs. Otherwise, if there is a difference I will continue to run this for a few weeks. I believe that there will be an increase in the rate of growth, but I do not think there will be any difference in colors or the leaves. If there is anything anyone would like me to watch for or anything else let me know. This is just for fun, and something different to try out even though others have tried this in a similar manner.