Ok, I got my dry ferts last week and decided I am going to start them this week. I did a water change this morning and took all my readings.
Picture of tank taken this morning: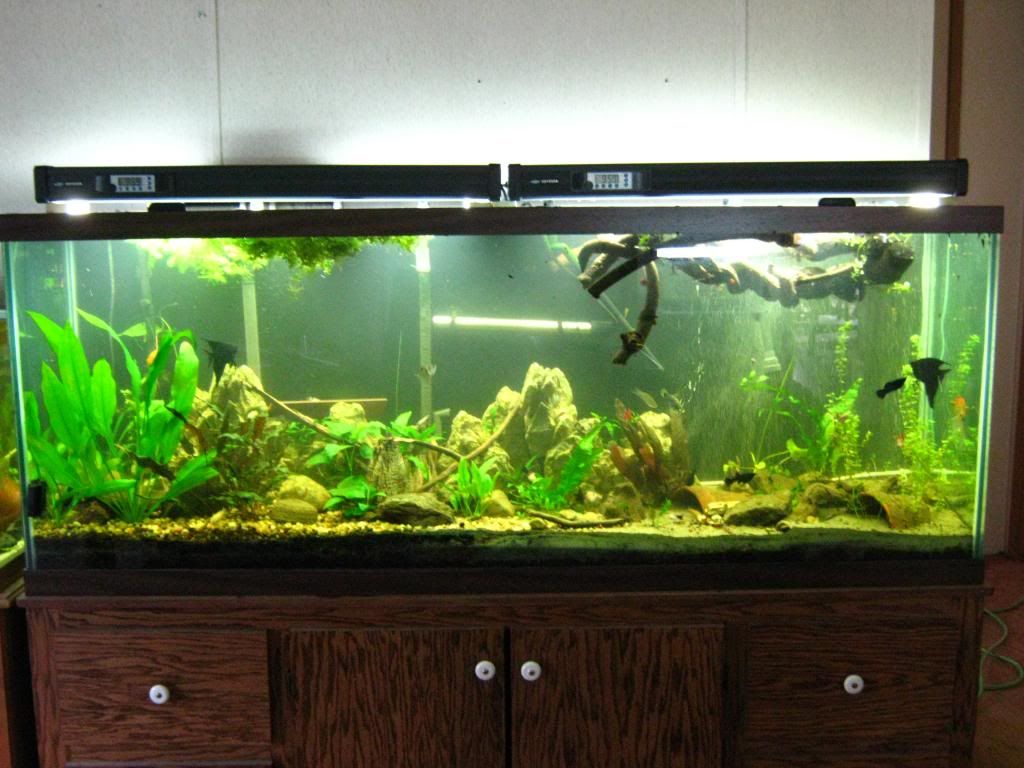 Tank is 28" high, with about 3" of that being substrate. The lighting is about an inch above the top of the tank. I am using 2 - 36" quad lights, but I only light 2 bulbs on each at a time - a 6500K and a 10000K bulb. The lights are on from 8 a.m. until noon and then from 2:30 p.m. until 6:30 p.m. I have glass tops.
Readings are as follows:
Temperature - 79*
pH - 7.6
Ammonia - 0
Nitrite - 0
Nitrate - 10 ppm
KH - 125.3 ppm
GH - 143.2 ppm
Phosphate - 1.0 ppm
Iron - .05
I used a chart on AquaDaily (
http://aquadaily.com/2009/01/29/co2-ph-kh-chart/
) to determine the CO2 level in the tank and if I did it right, it is somewhere around 7. But I did my tests shortly after the water change and I hadn't put any Excel in this morning.
I got my ferts from GLA. I am not using CO2 injection yet - still too scary and I want to get the hang of the ferts first. I am using Flourish Excel every day.
This is what I think my dosages should be for my 150G tank:
KN03 - 5/8 tsp.
KH2P04 - 5/16 tsp.
K2S04 - 5/16 tsp.
I would do these on Monday, Wednesday and Friday
CSM+B - 5/16 tsp. on Tuesday, Thursday and Saturday.
Flourish Excel - 15ml every day but Sunday (water change day)
Any comments, hints, criticisms, advice will be more than welcome. I am heading for bed now because I have to work tonight, but I will be checking from work later because I want to start this in the morning.
Thanks.