I am now onto my third redo of the first aquarium that I started with. When it started it was inert gravel, some random plants, and all sorts of other things that just weren't working together well. I tried to revive the tank with some more suitable plants and fertilizing, and that didn't do any good. Then, the tank was torn down and redone with a new substrate when I got tired of the gravel not serving any good purpose. Now, I ended up losing my black orchid betta a few weeks ago to unknown causes, and had an ongoing algae battle that I was losing resulting in another change to what it is below.
Equipment
- Regular 10 gallon aquarium
- Aqueon 10 filter
- Aqueon Pro 50 watt
- Hanging clamp light with a 23 watt 6500K spiral CFL bulb (hanging 6" above the water)
For the plants
- Fluval stratum: less than an inch deep in the front sloped up to 3"+ in the back
- Weekly dosing of Seachem Equilibrium, micros, and KNO3 sparingly
- Seachem root tabs
Plants
- Cryptocoryne Wendtii 'red' (I got 9 plants out of the one that I bought today)
- Cryptocoryne Wendtii 'Florida Sunset' (1)
- Amazon frogbit (will be changed to red root floater)
- Marimo ball
Other life
- 1 male crowntail betta
- a few MTS
Parameters
- ammonia: 0 ppm
- nitrites: 0 ppm
- nitrates: normally 0 ppm, but will be maintaining 5-10 ppm
- pH: 7.4
- KH: 8 dH, slowly lowering to 3-4 dH
- GH: normally 0 ppm, but will be maintaining 2-3 dH
I will be adding more plants as I take them from my other tanks. The driftwood will either get covered in flame moss or peacock moss once I know the algae is done for. I got tired of the hood and lighting setup for doing maintenance or getting any decent light spread, so it is now an open top. The driftwood itself is awesome looking to me, and it even makes a nice cave for the betta (goodbye coconut shell
). With it set up this way I should have a very simple tank to maintain just as long as the plants grow well. Now to wait for it to all slowly fill in.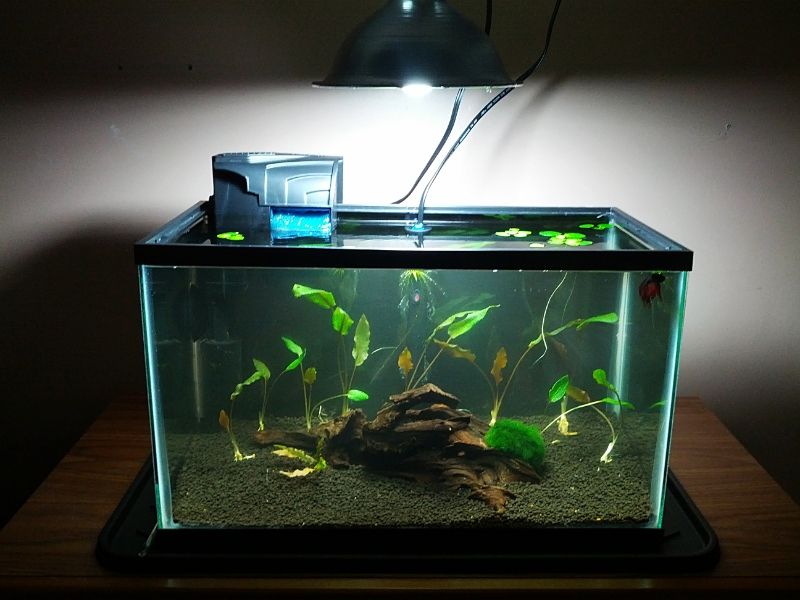 Florida sunset that I couldn't keep the coloring in, still nice though.