This will be a journal to document the plants in my tank and give me an organized visual of the progress. It will probably look similar to AlyeskaGirl's journal since I like how well it is organized, so it is easier to follow.
Tank Setup
- 20 gallon high
- 24" 48 watt AquaticLife dual T5HO: ZooMed bulbs, 5500K and 6500K
- Milwaukee MA957 regulator, 5lb CO2 tank, Fluval 88G diffusor
- Aquaclear 20 and 50
- Aqueon Pro 100 watt heater (79F)
- Pool filter sand substrate
Plants
- Hygrophilia Polysperma "Sunset Hygro"
- Rotala Indica (not true indica)
- Rotala Rotundifolia
- Dwarf and regular riccia fluitans
- Java moss
- Brazilian pennywort
- Purple Cabomba
- Alternanthera reineckii 'cardinalis'
- Ludwigia x arcuata
- Marsilea hirsuta
- Amazon frogbit
- Echinodorus bolivianus 'chain sword'
- cryptocoryne wendtii "green"
- Rubin sword
- Bacopa caroliniana
- Limnophilia Aromatica 'hippuroides'
- Fissidens fontanus
Fertilization
- Nitrates: 10ppm (not currently dosing KNO3)
- 1/16 teaspoon K2SO4, KH2PO4, an plantex CSM+B (dosed on alternating days 6 days a week)
- Currently no test kit for iron or phosphates
- Will probably be lowering dosage either K2SO4 or KH2PO4
- CO2: 30-40ppm
- KH: 11dH
- GH: 4 dH
- pH: 7.4 (or 7.6) before CO2, 6.8 after CO2 is concentrated
I am still learning the dry dosing aspect as I go, but the growth is great so far and the algae I had a couple months ago is gone completely. In a month or two a majority of these plants, lighting, and CO2 will be moving to a 29 gallon tank with a 20L sump/refugium. Any suggestions are welcome in the way I am doing things, I like to learn.
Pictures are from 11/30/2012 after a large trimming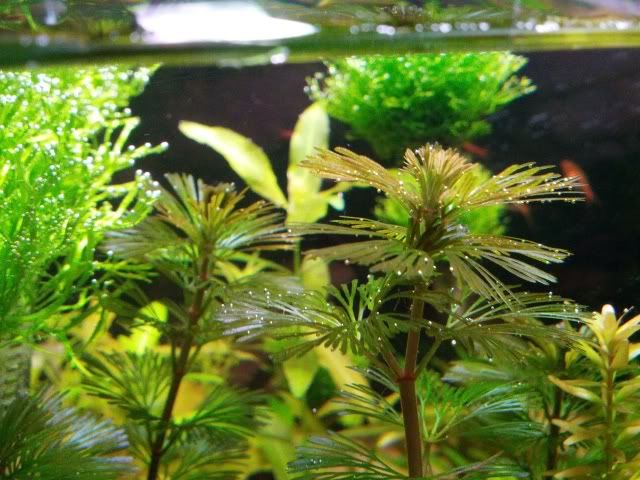 This crypt was grown emersed and was moved to the tank two weeks ago, only lost a couple leaves in the transition.